Featured Partnership: Rural Tech Fund
We are happy to announce a new partnership with Rural Tech Fund!
Through our partnership, educators who receive Makey Makey donations from the Rural Tech Fund will now receive a seat from Makey Makey in our Certified Educator Workshop, a 3-hour virtual class during which educators will learn how to teach Invention Literacy, Making, and integrating STEM into a vast array of educational topics using the award-winning Makey Makey. The workshop includes a pair of Booster Kits which are materials for the participant to get their feet wet inventing with Makey Makey.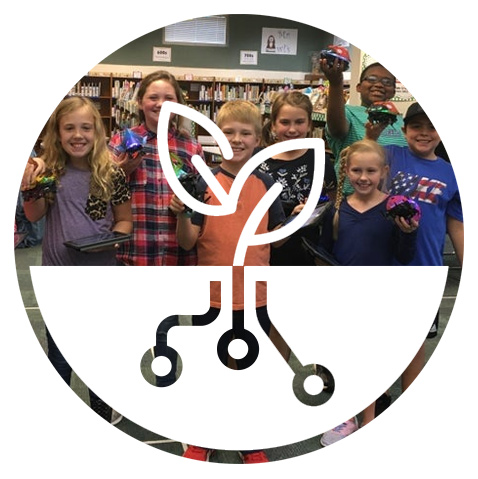 For those who have never heard of the Rural Tech Fund, can you give us a little bit of background?
The mission of the Rural Technology Fund (RTF) is to help rural students recognize
opportunities in technology careers and gain the education necessary to work in the computer industry. We accomplish this goal by providing rural public schools with technology education equipment, distributing scholarships to rural students pursuing technology-related majors, and advocating for the inclusion of computer science curriculum in schools. The RTF also participates in distributing assistive technology devices to schools to better support students with disabilities, thereby increasing overall inclusive technology exposure. Addressing the digital divide between rural and non-rural communities is at the heart of our work. 
Can you speak to the need for technology education and access in rural communities?
Rural areas are not typically home to technology company offices, and therefore community support is often lacking for tech-related internship opportunities, education training programs, and mentorship. Exposure to technology is critical in gaining interest in the field, so funding to supply opportunities, particularly in these rural areas, can help reach underserved rural populations. We've reached over 170,000 students in over 800 schools in all 50 states!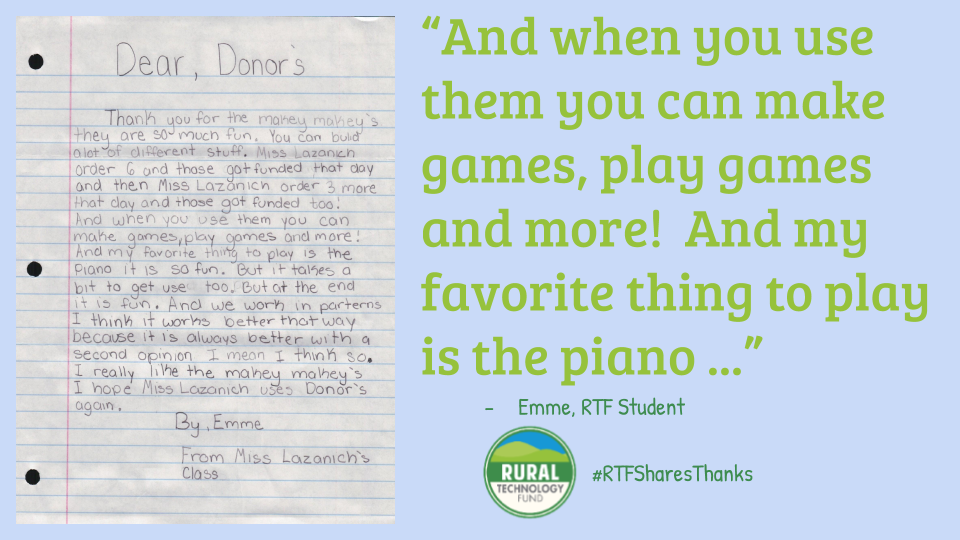 How have Rural Tech Fund schools used Makey Makey?
We have donated many Makey Makeys to schools across the US. Classrooms have been using Makey Makeys in countless ways, including
Exploring circuits by creating game controllers
Using an inquiry approach by trying out different materials to create their circuits
Creating interactive posters for the main entryway of a school
Introducing students to the famous banana piano
Many of our donations go to support STEM clubs for students to explore and gain exposure to various avenues of computer science.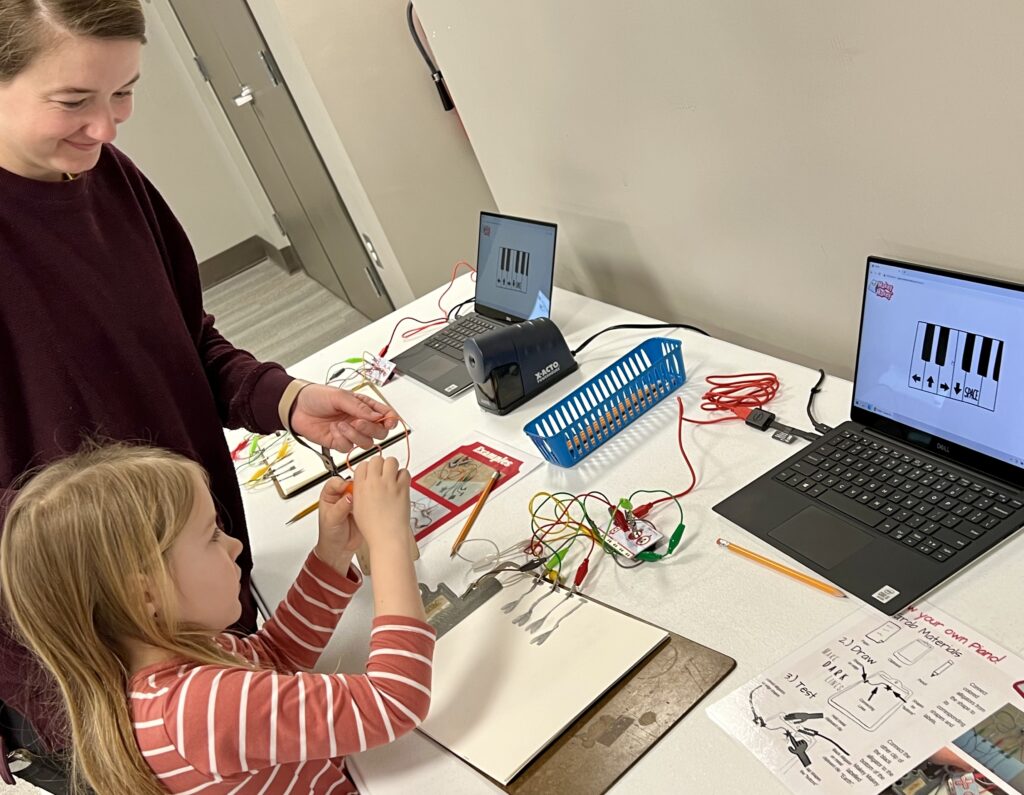 If someone reading this is interested in Rural Tech Fund, how do they apply or find more information?
Our grant application is on our website: https://ruraltechfund.org/apply-for-grants/ 
The application is open year-round for educators. We have examples of projects we have funded and guidelines for projects right on that page. 
For more information about the RTF, please visit our website (ruraltechfund.org) and follow us on social media (@ruraltechfund on Twitter, Facebook, Instagram, and LinkedIn)
We are really excited about the partnership between Rural Tech Fund and Makey Makey, can you provide some details about it and the benefits of the partnership from your perspective? 
This partnership provides valuable resources for our educators. It is important to us that our grant recipients feel supported when they receive their technology donations. Being able to offer the Certified Educator Workshop to our educators means that they will be best positioned to successfully integrate the tech into their classrooms and support their students in endless exploration. This promotes long-term usage of the technology, which means more students can be exposed to the amazing benefits Makey Makey can offer. 
We have been donating and also traveling to conferences with Makey Makeys because they provide a great opportunity to pique interest in circuits and ignite curiosity about all the things one could program.