Makey Makey 2023 Holiday Sale
Let us build the perfect gift for your young inventor!
The holiday season is rapidly approaching, and if you're on the hunt for a gift that will not only bring joy but also ignite the spark of curiosity and learning in the tech-savvy kids in your life, your search ends here! Introducing the Makey Makey STEM products, the perfect holiday gift for young minds hungry for knowledge and innovation.
Take advantage of this opportunity to kindle curiosity and innovation in your young ones. Makey Makey STEM products are the perfect gift to make this holiday season unforgettable and educational. Join us in giving the gift of endless possibilities and learning through play.
Holiday Bundles to Fit Under a Tree or Fill a Stocking!
Makey Makey Holiday Bundles, designed to fit snugly under a tree or fill a stocking, offer a unique and educational twist on festive gifting. These thoughtfully curated packages blend the joy of the holiday season with the magic of invention and creativity.
Inside each bundle, you'll find a Makey Makey kit as well as the materials for turning ordinary objects into extraordinary interactive experiences. It's a delightful mix of tech, learning, and holiday spirit, making it an ideal gift for anyone eager to explore, experiment, and spark their imagination during this joyful time of year.
Creative Engineer Bundle
With the Makey Makey Creative Engineer bundle, your tween can turn their wildest inventions into reality. They can build musical inventions or even invent their own board games.
This Bundle Includes:
Makey Makey Classic Kit
Makey Makey Bananaversary Backpack Bundle
Makey Makey Get Up + Go! Booster Kit
Makey Makey Craft + Code Booster Kit
Pair of Makey Makey Socks

Projects to Build With This Bundle
Cardboard Guitar
Tweens can turn things up to 11 by crafting their very own cardboard guitar!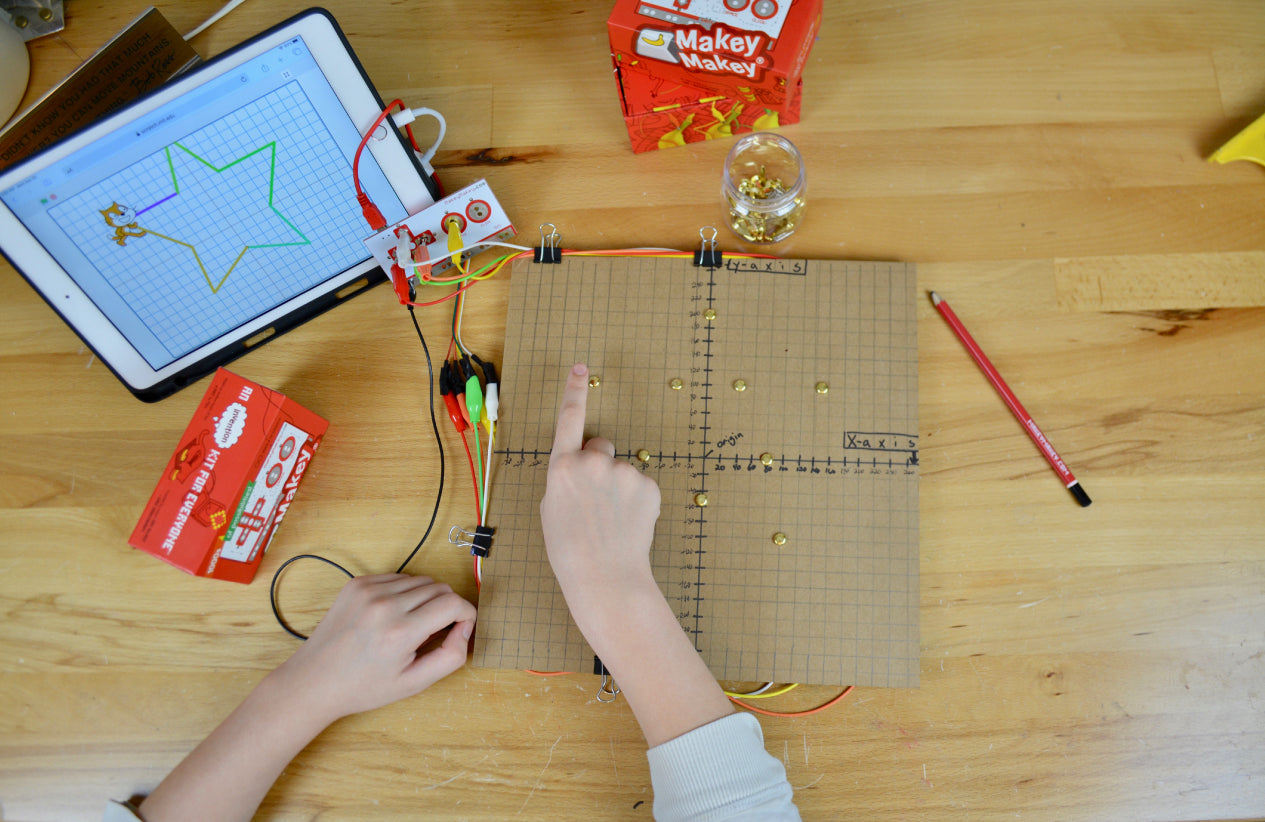 Pixel Art Finger Paint
Math geeks will love this bundle contains our Makey Makey Classic and the Bananaversary Backpack Bundle!
---
Young Inventor Bundle
Looking for a fun and educational gift for your young inventor? Look no further than the Makey Makey Young Inventor Bundle! With this bundle, your child can learn about STEM concepts while inventing alarms, building hula hoop controllers to control digital drawings, and even more wacky, fun, wild inventions. This is the perfect bundle to embark on inventive journeys together. Collaborate, problem-solve, and celebrate achievements as a family.
This Bundle Includes:
Makey Makey Classic Kit
Makey Makey Craft + Code Booster Kit
Pair of Makey Makey Socks

Projects to Build with this Bundle
DIY Game Controllers
Your Young Inventor can turn almost anything into a video game controller
Hula Hoop Controller
Calling all parents of curious and creative 10-year-olds! Uncover the budding inventor in your child with our Makey Makey
---
Makey Makey Socks!
Yes, we said "SOCKS"! With Makey Makey Branded Socks, you'll not only have a comfortable and stylish addition to your wardrobe but also a conversation starter for your next maker gathering or tech conference. Whether you wear them while inventing new gadgets, coding, or just relaxing at home, these socks will inspire you to push the boundaries of your creativity.
For our true fans, our socks come in two different patterns (Banana or Alligator Clip) and two different sizes (Medium or Large). They are the perfect gift filler or stocking stuffer (they even could be used as a stocking) this holiday season!